Vasa Museum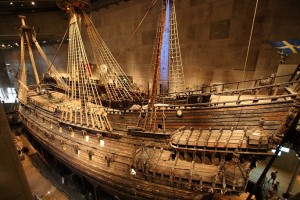 The Vasa ship museum is the most visited museum in the whole Scandinavia. It is a museum of one unique treasure – an almost 400-year-old warship in a near perfect condition decorated with hundreds of original carved sculptures.
This warship was built on the orders of Sweden's King Gustav II Adolf.  In 1628 the Vasa ship sank in front of a huge crowd in the Stockholm harbor and was salvaged 333 years later in 1961.
For nearly 50 years the ship has been deliberately restored to a state approaching its original glory. The 69 meter-long warship has three masts and the specially built museum shows the height of the ship's original masts.
There are ten different exhibitions around the ship to tell about life on board the ship.