It's the fourth year in row that the tour operator Baltic blues Travel is launching to launch the annual project Beaver Ben Camps and  addressing issues related to the negative impact of the travel industry on the planet. We decided to do this from the perspective that touches most of us – children, poverty and environmental protection.
The story started in 2015 when Marius and Olga, the owners of Baltic Blues, became parents. It is a truly transformational moment in every person's life that encourages us to re-evaluate our values and motivates us to become a better person.  Thus, becoming happy parents made them think about other children who are raised without the love of parents and suffer from poor living conditions. That's why they decided to do something that any travel company can do the best — arranging awesome summer holidays for them.
"It's something that they would never be able to experience without us!"
The first summer camps started in 2016 and now, four years later, we are proud of organizing 7 summer camps that have made 122 kids happy!
Most of these children came from orphanages and help centers for socially disadvantaged children: those living in poverty, having problems with education or social integration, and simply those who have never left their hometowns and never travelled in their lives.
Moreover, environmental issues are the other cornerstones of the project. The Beaver Ben camps take place in one of the most beautiful and fragile natural parks of Lithuania – the Curonian Spit, which lies between the Curonian Lagoon and the Baltic Sea. This unique place is a UNESCO World Heritage site and is a live natural museum where long chains of white sand dunes, beaches and forests are home to a large number of rare birds and mammals.
This exceptional location is chosen for an important reason. The daily impact of tourism is a negative challenge to this natural park. Therefore, Baltic Blues feels responsibility to come up with an initiative to protect the beauty of the Curonian Spit. We do it by involving children and Baltic Blues staff into various activities, such as cleaning the shores of the Baltic Sea. In each camp, the children spend about 30 hours collecting waste in the beach and dunes.
In addition, at every camp the children spend about 20 hours learning about environmental protection. Professional youth workers prepare an active program with various workshops and discussions that aim to raise their awareness about ecological problems.
Beyond that, special attention is given to strengthening the social skills of the children. We noticed that their background makes them disadvantaged when it comes to social integration, dealing with negative emotions and self-control. Therefore, social workers are addressing this issue by involving them into team-building activities, group discussions and counseling.
Last but not the least, a part of the daily program is recreation and entertainment. And here we do our best to offer many exciting activities and to help children simply relax and enjoy their time by the sea. Trekking, excursions, visits to the museums, safari trips, sailing, sports and beach time – everything that would make a little person happy!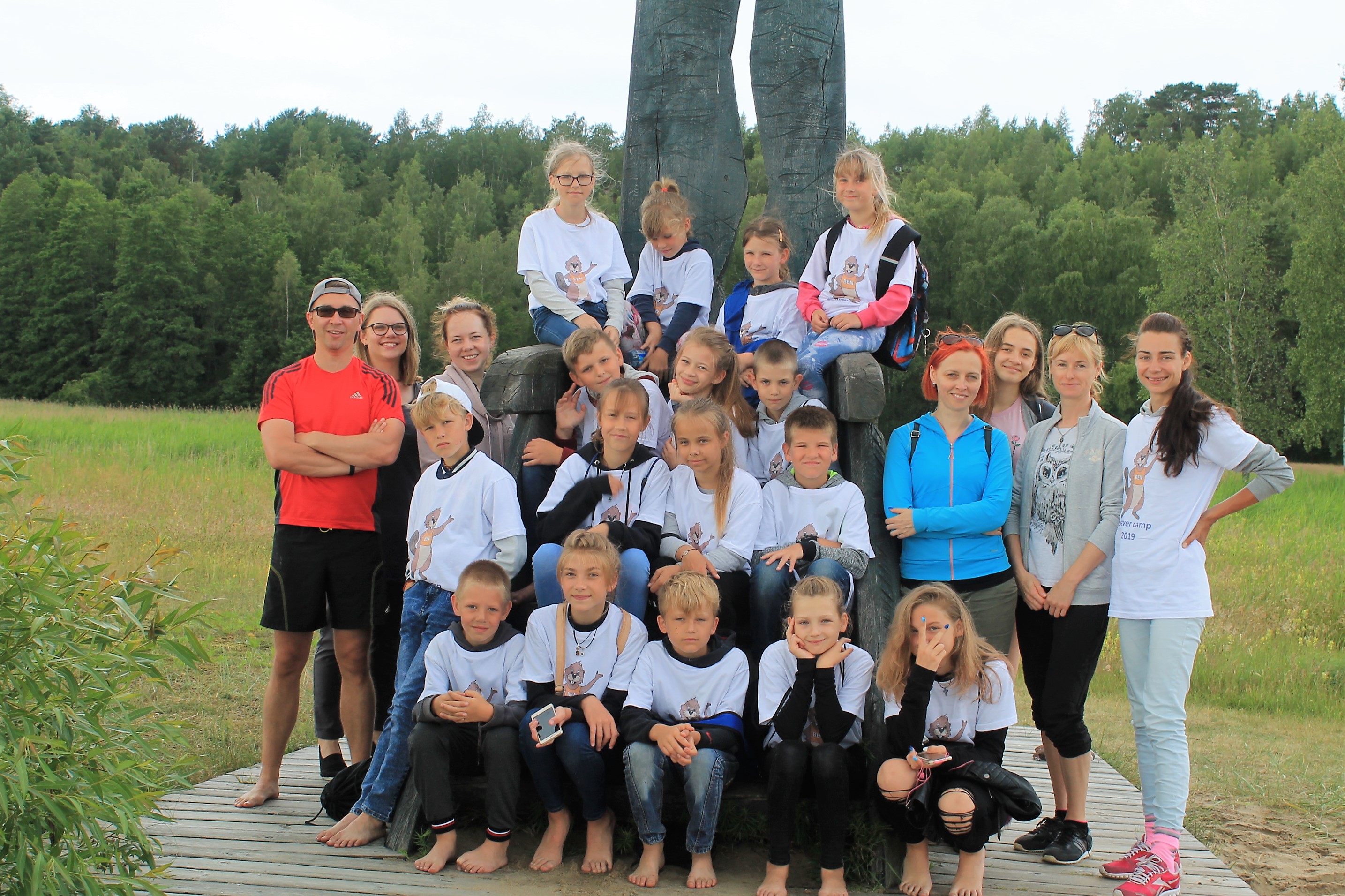 Beaver Ben Camps 2019:
Every year we learn from the experience and try to become better at what we do!
In 2019, Baltic Blues Travel organized two camps for 35 kids:
June 10-20: 16 children from the charity fund "Your opportunity" in Krekenave
June 20-30: 19 children from the charity fund "The light of hope" in Birzai
Their daily program was focused on four main blocks:
Environmental protection: this year children spent 60 hours cleaning the seashores and collecting 150 kg of waste!
Environmental education: kids took part in more than 20 hours of workshops and discussions – i.e. the danger of plastic, the role of birds, insects and mammals in the ecosystem, animals living in zoos and in the wild.
Building social competences: more than 20 hours were dedicated to team-building activities and discussions where kids could learn about positive and negative social behaviors, friendship and support, dealing with negative emotions, strengthening feed-back skills, etc.
Recreation: 30 hours of fun and exciting activities like trekking in dunes and forest, sailing along the coast, an excursion-safari around the Curonian Spit, a trip to the Hill of Witches, an excursion to the Sea Museum, a visit of the Thomas Mann museum, a big bubbles game, and of course swimming and sports games.
---
This charity project would not be possible without the help of our partners who contributed to Beaver Ben Camps 2019:
* KONTIKI, Switzerland
* Lauvas Turs, Latvia
* Ollex, Lithuania
* Kautra, Lithuania
* Mare Travel, Lithuania
The children and Baltic Blues would like to say a SPECIAL THANK YOU to them and invite other socially and environmentally responsible companies to join Beaver Ben camps next year!
---
We are happy to share the exciting activities, happy moments of the Beaver Ben Camps 2019 in our ANNUAL REPORT: